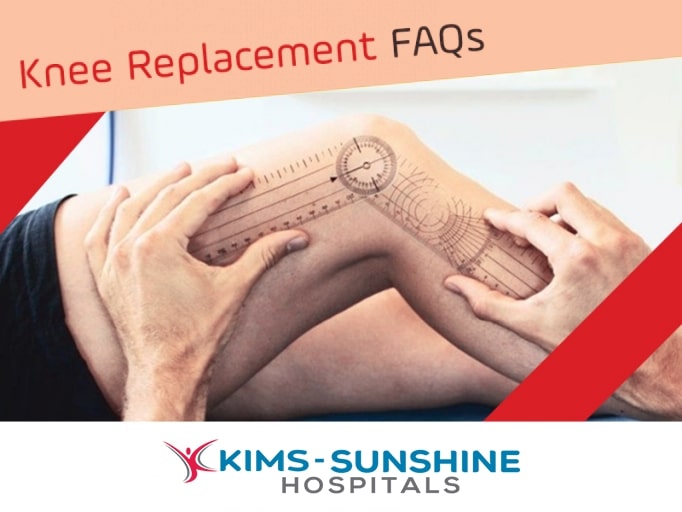 10 Most Commonly Asked Questions Regarding Knee Replacement Surgery
Total Knee Replacement is dubbed as one the most  successful surgeries of the century, it's done to treat arthritis of the knee. In theory it's simple – take out the damaged part of the knee, and replace it with a brand new artificial knee. What sounds so simple in theory, in reality is a complex procedure which needs precision, experience and should only be performed by trained surgeons in the field of joint replacement. Advances in surgical techniques, implant design and post operative pain management has made total knee replacement a very common procedure.
Once someone is offered a knee replacement, there will be lot of questions that need to be answered. Let's make an attempt to answer some of the most common questions asked by patients.
Here are the 10 most commonly asked questions regarding Knee Replacement Surgery.
Who needs a Total Knee Replacement Surgery?
Total Knee Replacement (TKR) is the last option offered for knee arthritis, to improve function and reduce pain in the joint. Usual indications for surgery are, when medicines, physiotherapy and knee braces have failed to improve your condition, pain is severe, inability to perform activities you normally do on daily basis, need for frequent pain medications, deformity in the knee joint, stage III or IV arthritis on x-rays. All these features indicate you need a total knee replacement.
Will I have pain after surgery?
This is probably the most commonly asked question and also the most common reason keeping patients away from getting surgery done. With advances in surgical techniques and pain management we have come a long way in controlling post operative pain. Multimodal pain management which essentially means blocking pain impulse at various levels to the brain, has largely helped in controlling pain after surgery. Local ice packs and physiotherapy helps control swelling and reduce pain. The bottom line is, there will be some pain, but within tolerable limits, so that you can walk and exercise after surgery.
When can I walk after surgery?
If you are upto it, you can walk the same day after surgery and some patients do. All patients are made to walk on day 1 after surgery. There is no resting phase after TKR, the early you start exercising the better. It's a myth that we have to rest till sutures heal. Initial few weeks you will need the help of a walker. Most patients get rid of the walker by 3-4 weeks.
How many years will my knee last?
Most artifical knees manufactured by standard international companies today, last more than 10-15 years. Recent advances in implant materials and plastic have ensured that, they can last even longer. Titanium nitride coated metal, oxidized zirconium, highly crossed linked poly are such materials presently available, which we are currently offering to our patients.
Am I too young/old for a Knee Replacement Surgery?
Age is just a number. What is more important is how healthy you are for your age, which is known as physiological age. The last two decades we are seeing, younger and younger patients developing knee arthritis. Patients with rheumatoid arthritis and inflammatory arthropathies also develop early arthritis. Once you fit into the above mentioned criteria for knee replacement, and have exhausted all non operative options, you will have to undergo the procedure irrespective of age.
Where should I get it done?
Sunshine Hospitals is one of the largest institutes in Asia which performs the highest number of successful Total Knee Replacement Surgeries. We do over 4000 knee replacements a year. The team of doctors who performs the surgeries include the best orthopaedic surgeons with world class training, who work in close associations with the equally abled departments of anaesthesiology and physiotherapy.
Will there be any dietary restrictions?
Its a common myth that certain food items are forbidden for patients who have undergone surgery, more so with total knee replacement. There is no link between food and development of infection. Patients post surgery have protein loss and need to be supplemented well, through a good nutritious well balanced diet. High protein intake helps in faster wound healing. Unless you have diabetes or renal or liver issues which warrant special dietary restrictions, there is no food restriction post surgery.
What are the chances of complication? Can my replacement fail?
Any surgery carries certain element of risk with it. Knee replacement is no different. Meticulous pre operative evaluation is done to ascertain the risk involved with surgery. Usual risk of complication is pegged at 1-2% if there are no preexisting health issues. The main concern for the surgeon is the risk of infection. Our current infection rate is comparable to international standards which is less than 1.5%. Its important that you get operated at a high volume centre which is well equipped and takes all the precautions to avoid complications.
Will my medical insurance cover the surgery?
Most medical insurances cover Total Knee Replacement Surgery. Some individual policies might cover it only after 3-4 years of taking the policy.There is no such clause under corporate insurances.  when you are at the hospital, your policy will be verified by our insurance team. Sunshine hospital has tie ups with every possible insurance company presently available in the market.
While this Q and A session, might not address all the aspects of total knee replacement. I sincerely urge you to contact us for any further clarification or consultation regarding TKR. Based on the amount of arthritis you have, further treatment guidance will be given.
About the Doctor
Dr A.B Suhas Masilamani is one of the few surgeons who has trained in USA and has come back to work in India, He finished his MBBS and MS Orthopaedic training from Christian Medical College, Ludhiana. He then went on to clear his DNB Orthopaedics, and later pursued  fellowship training in United States of America. His  first fellowship was in Paediatric Orthopaedics at Montefiore Medical Centre, Albert Einstein School of Medicine, New York, USA. This was followed by a second fellowship in Adult Hip and knee joint replacement Surgery at Bronx Lebanon Hospital, Icahn School of Medicine at Mount Sinai, New York, USA.He is one of the very few surgeons from the city to become a member of American Academy of Hip and Knee Surgeons (AAHKS). He is also a member of American Academy of Orthopaedics Surgeons (AAOS) and International Congress for Joint Replacement (ICJR).
About Sunshine Hospitals: