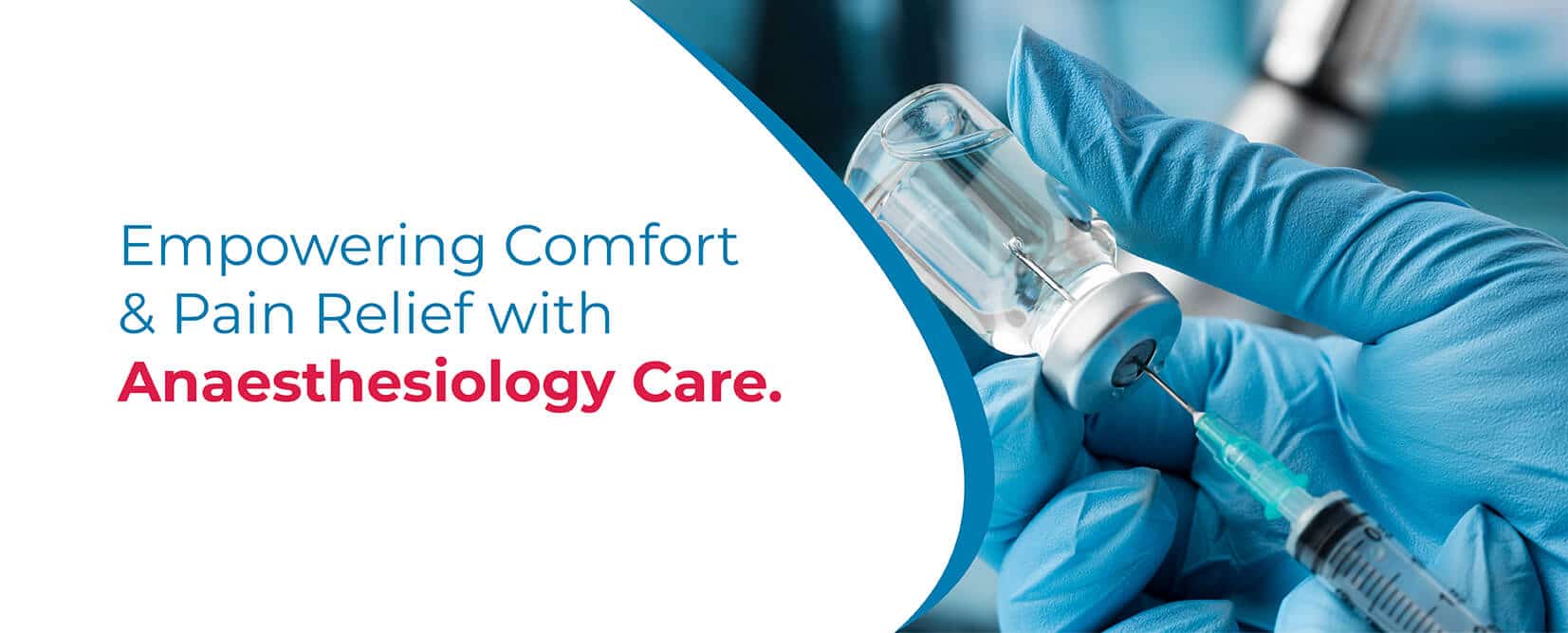 Best Anaesthesiology Hospital
In Secunderabad & Hyderabad
The Department of Anaesthesia at KIMS SUNSHINE Hospital offers services for procedures requiring anaesthesia, elective surgeries and emergency care. This department has experienced and skilled anaesthesiologists with hands-on experience in providing anaesthesia services to different sub-specialities of anaesthesia including neuro, cardiac, paediatric, obstetric and daycare. Anaesthesia services are offered round the clock.
Anaesthesia Department is well-equipped with world-class care at KIMS SUNSHINE. It provides anaesthesia services for oncology, endoscopic surgery, minimal access surgery, urologic surgery, organ transplant, dental, ENT, cosmetic and other allied surgical specialities. These services are also extended to obstetric suits for painless deliveries.
At the Anaesthesiology hospital in Hyderabad, the department has 17 full-time consultants (5 of them dedicated to cardiac anaesthesia) and 12 registrars providing quality anaesthesia services round the clock. In addition, three anaesthesiologist residents on the campus offer after-hours care.
Our anaesthesiologists offer compassionate care to patients by taking pride in being preoperative physicians. They provide a pleasant and comfortable atmosphere to the patients – and are determined to provide care throughout patients' journey that begins from admission and ends at discharge.
All anaesthesiologists are also encouraged to participate in national and international workshops to upgrade their skills and knowledge to deliver the best and safest services to patients. At KIMS-SUNSHINE Anaesthesiology hospital in Hyderabad, our anaesthesiologists have garnered a name for being at the forefront of ultrasound-guided regional anaesthesia for trauma and orthopaedic surgery in the city of Hyderabad. If you are looking for expert Anaesthesiology Hospital near you, visit KIMS-SUNSHINE Hospitals, Secunderabad for the best.
Operation theatres with latest anaesthesia work stations and monitoring systems
Fully equipped post-anaesthesia care unit
Anaesthesiology Department offers anaesthesia services to CT, MRI, ICU, Emergency rooms and Radiotherapy units.
Anaesthesia monitoring and support for preoperative cases
Continuous monitoring support for post-operative cases
Anaesthesia services for labour rooms (Obstetric units)
Anaesthesia services for emergency surgeries
Round-the-clock anaesthesia services
Anaesthesia for elective surgeries
Monitored anaesthesia care in the cardiac catheterization laboratories
Postoperative care in Cardiothoracic and Surgical Intensive Care Units.
Anaesthesia for out-of-theatre locations like Endoscopy Suite and MRI/CT scans.
Frequently Asked Questions
What is anaesthesia?
Anaesthesia is a medical speciality that focuses on providing anaesthesia, pain management, and critical care during surgical procedures or other medical interventions. Anaesthetists are trained physicians who administer anaesthesia and monitor patients' vital signs throughout the procedure.
What are the different types of anaesthesia?
There are three primary types of anaesthesia
a) General anaesthesia: Induces a state of unconsciousness to ensure painless surgery.
b) Regional anaesthesia: Numbs specific regions of the body, such as epidural or spinal anaesthesia.
c) Local anaesthesia: Temporarily numbs a small area, typically used for minor procedures.
How does anaesthesia work?
Anaesthesia works by interrupting nerve signals, reducing pain perception, and inducing a controlled state of unconsciousness or sedation, depending on the type of anaesthesia administered. It ensures patient comfort, safety, and optimal surgical conditions.
What are the risks associated with anaesthesia?
While anaesthesia is generally safe, it carries some risks, including allergic reactions, breathing difficulties, adverse medication reactions, and rare complications. However, anaesthetists at KIMS-SUNSHINE Hospitals in Secunderabad carefully evaluate patients' medical history and tailor the anaesthesia plan to minimize these risks.
What should I expect before surgery in relation to anaesthesia?
Before surgery, you will have a pre-anaesthetic assessment with an anaesthetist who will review your medical history, conduct necessary tests, explain the anaesthesia plan, and address any concerns. You will also receive instructions regarding fasting, medications, and other pre-operative preparations.
What is the role of an anaesthetist during surgery?
An anaesthetist plays a crucial role in ensuring patient safety and comfort during surgery. They closely monitor vital signs, administer and adjust anaesthesia as needed, manage pain, and address any potential complications that may arise during the procedure.
Will I wake up during surgery?
Waking up during surgery, known as intraoperative awareness, is extremely rare. Anaesthetists at KIMS-SUNSHINE Hospitals use sophisticated monitoring techniques to maintain an appropriate level of anaesthesia, ensuring that patients remain unaware and pain-free throughout the surgical procedure.
How long does it take to recover from anaesthesia?
Recovery from anaesthesia varies from person to person and depends on the type and duration of anaesthesia, as well as individual factors. Most patients recover consciousness shortly after the procedure, while the effects of anaesthesia wear off gradually over several hours. The anaesthesia team at KIMS-SUNSHINE Hospitals will closely monitor your recovery and provide appropriate post-operative care.
Health Blogs for Anaesthesiology
The emotion we experience when we hear the word 'surgery' is panic. The word 'surgery' creates a frightening word web including the words risk, pain, scar, recovery, hospital, scissors & knives,