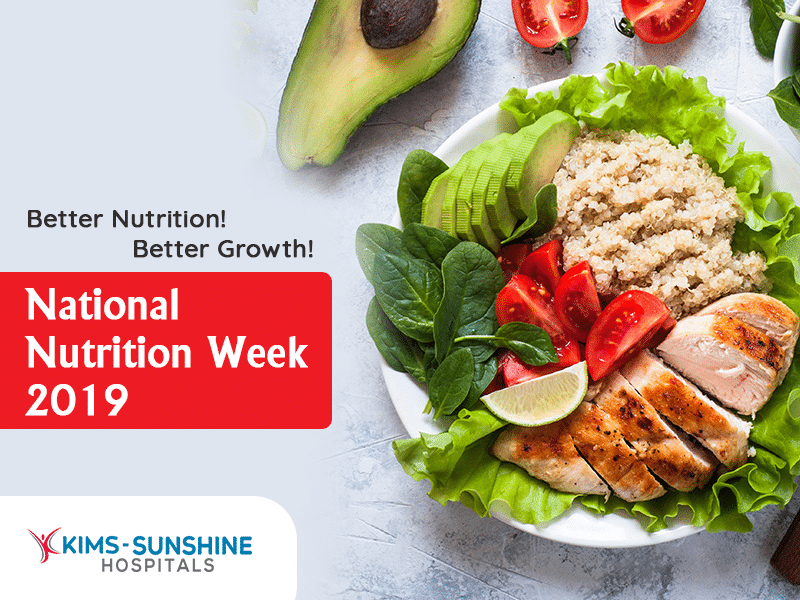 Better Nutrition! Better Growth! National Nutrition Week 2019
National Nutrition Week 2019: 1st September – 7th September
Every person needs Better Nutrition for better growth. Nutritional Deficiencies or Malnutrition is one of the serious problems currently being faced by many children in INDIA, resulting in an abnormal growth in the future. Malnutrition accounts for 22% of the burden of diseases in INDIA.
To encourage good health for healthy living, in 1982, the central government of INDIA started a campaign in order to educate people about malnutrition, which is one of the main hindrances to the Nation's Development.
The main objective of this Nutrition Week is to improve the nutritional practice by creating awareness among people through adaptable training, education, seminars, roadshows and some other health campaigns for a healthy Nation.
Every year, starting from the 1st of September to 7th of September is marked as National Nutrition Week, and in our Sunshine Hospitals, we educate people about the Importance of nutrition to the Human Body and make them focus on their Nutritional diet for their better health.
On the occasion of National Nutrition Week, our experts at Sunshine Hospitals want you to know about the most essential nutrients for healthy growth. Our doctors say that a healthy and balanced diet with added nutrients is vital for the growth of the human body.
Calcium
Calcium – It always lists on the top of essential nutrients, especially for kids. Calcium is accountable for the healthy growth of bones. It also plays a significant role in the development of nerves, muscles and heart. Milk is one of the rich sources of calcium. Some other sources like cheese, broccoli, yoghurt, tofu, spinach etc, also have more calcium reserves.
Fiber
The fibre in our regular diet is essential for digestive health and regular bowel movements. Fibrous diet is equally important even in kids but in less quantity. Fruits and vegetables are rich in fibre which will provide fibre and other essential nutrients. Fibre also improves your cholesterol and blood sugar levels and helps in preventing diabetes, heart disease and bowel cancer.
Iron
Iron is the most important mineral that plays a vital role in the functioning of red blood cells which transports oxygen in the blood. Healthy Iron values in the body increase energy, promote a healthy pregnancy and improve athletic performance.
Iron deficiency may lead to complicated health issues like anaemia. So you need to be watchful of the iron diet for better health. The best sources of dietary iron include whole grains, nuts, beans, fortified cereal, lentils and green leafy vegetables etc.
Vitamin C
Vitamin C is important for the development and repair of your body tissues. It plays a vital in other body functions such as the formation of collagen, absorption of iron from the diet, healing of wounds and in the maintenance of strong bones and teeth. It helps to build a strong immune system. It is also rich in antioxidants and protects our body from several health risks. The foods rich in vitamin C are citrus fruits, strawberries, tomatoes, white potatoes, sweet potatoes, broccoli, leafy greens, papaya, mango, watermelon, and pineapples etc.
Vitamin D
The natural function of vitamin D is to maintain calcium and phosphorus levels normally in blood. It helps to build stronger bones and keep them strong and healthy. Vitamin D also provides other health benefits like better functioning of the brain, improves immunity power, and better functioning of the nervous system. Fish, orange juice, soy milk, cereals, cheese, egg yolks etc are good sources of vitamin D.
A perfect diet plan always helps you to live a healthy life. Make sure your diet contains some nutritional values. As part of social responsibility, we, at Sunshine Hospitals are educating and making people aware of the benefits of nutrition. For any kind of nutritional deficiency problems, you can consult our top doctors for better suggestions and treatment options.
About Sunshine Hospitals:
A Multi Super Speciality Institution, 500 bedded Sunshine Hospitals (Paradise Circle, Secunderabad) is promoted by globally reputed Joint Replacement Surgeon Dr AV Gurava Reddy (Orthopedic Doctor) and like-minded associates who share the objective of making world-standard healthcare available, affordable and accessible to the common man. Sunshine has now become one of the best hospitals for many treatments including Orthopedic, Gastroenterology, Cardiology, Trauma and Neurology.