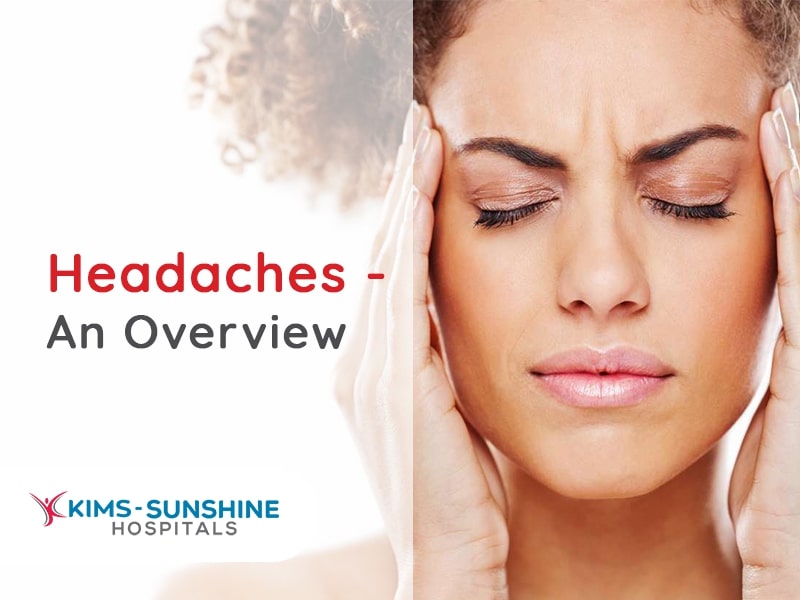 Diagnosis Of Headaches – An Overview
Imagine you're at work and its 2 in the afternoon and you get a shooting headache. Due to the heat, stress and continuous exposure to laptops and phones, headaches are bound to happen.
Now, these headaches are common. Almost all of you have experienced it at some point. There is pressure, stress and many many other factors which might lead to you having a headache.
However, most of you wouldn't bother about these headaches, right? You might get some sleep or take a painkiller and sleep. But when do you realise that these headaches are getting to you? That you might need to actually consult a neurologist for your headaches.
Types of Headaches include:
Primary headaches (usually benign and common) :
1. Migraine
2. Tension-type headache
3. Trigeminal-autonomic cephalalgias (TACs)
4. Other primary headaches disorders
Headache secondary to
Cranial or cervical vascular disorder
Trauma or injury to the head and/or neck
Non-vascular intracranial disorder
A substance or its withdrawal
Infection of brain/brain coverings
Disorder of cranium, neck, eyes, ears, nose, sinuses, teeth, or other facial or cranial structures
Psychiatric disorder
Painful cranial neuropathies and other facial pains
What are the signs for which you might need to visit a doctor?

If you are over the age of 50 and you have been having chronic headaches.
Your headache is usually accompanied by nausea, vomiting, dizziness, confusion and loss of consciousness.
When your headache is also accompanied by weakness or even loss of control over various parts of your body. For example speech or vision.
If you have two or more headaches per week
Even though there is treatment, your headaches are getting worse with time.
Stiffness and fever occurs during the headache.
Diagnosing your headache

One of the most important aspects of treating recurrent headaches is by the procedure of diagnosis. It is essential to understand the importance of keeping in mind when the headaches arrive and its duration. Keeping a tab on the nature of headaches can be very useful in understanding the cause.
A list of details is often needed which can help you and your doctor to understand your headaches.
These details include:

When the headaches occur and its duration
If you know a way of making it go away or way to decrease it.
Botheration due to sound, light or noise.
If there were any changes in vision before the headache.
Sleep cycle
If you are woman, your menstrual cycle may play a role as well
Food and drinks consumed 24 hours prior to the headache
Previous diagnosis and treatments received.
All these factors play an important role in finding out the cause of your headache. Once these details are penned down and understood by your doctor, then the tests start to find what is triggering your headache and the nature of it.
There are many tests which doctors suggest to make sure any kind of factor external or internal is not left out.
These tests are:
Physical Exam: Physical exam is an important test which needs to be done. This is probably the first test which is done on the patient by paying close attention to the neck, shoulders and head region which might contribute to the headache.
Neurological Exam: The Neurological exam is another important test which will be done. This includes testing your vision, hearing, nerves, reaction time and also your mobility.
Blood Tests: A blood test is done to rule out any kind of infection and any other health conditions.
Spinal Fluid Test: If your headaches are being caused by certain infections present in your brain, this test will help reveal that.
Imaging Tests: CT Scan and MRI is done to show changes in the brain/brain layers/brain vessels. If there are any cysts on them, this will show these details if any.
These are some of the major tests which need to be done to understand the causes of your recurrent headaches. It might be nothing but it also might be something so it is always better if you are having recurrent headaches, to get these tests done asap.
About The Doctor:
After completing her MBBS in 1999 and getting a gold medal from SVS Medical College in Mahboobnagar, Dr. Anitha Kotha went on to become the Diplomate in National Board (DNB)  General Medicine at the prestigious Nizam's Institute of Medical Sciences(NIMS) for 3 years. After that, she did 3 years course of DM  Neurology in NIMS and then  worked as a Consultant Neurologist in Yashoda hospital -Somajiguda for 3 years.   Dr. Anitha is one of the most experienced Neurologist and is a life member of the prestigious Indian Academy of Neurology and also the Medical Association of India.
About Sunshine Hospitals: 
A Multi Super Speciality Institution, 500 bedded Sunshine Hospitals (Paradise Circle, Secunderabad) is promoted by globally reputed Joint Replacement Surgeon Dr. AV Gurava Reddy (Orthopedic Doctor) and like-minded associates who share the objective of making world-standard healthcare available, affordable and accessible to the common man.  Sunshine has now become one of the best hospitals for many treatments including Orthopedic, Gastroenterology, Cardiology, Trauma and Neurology.