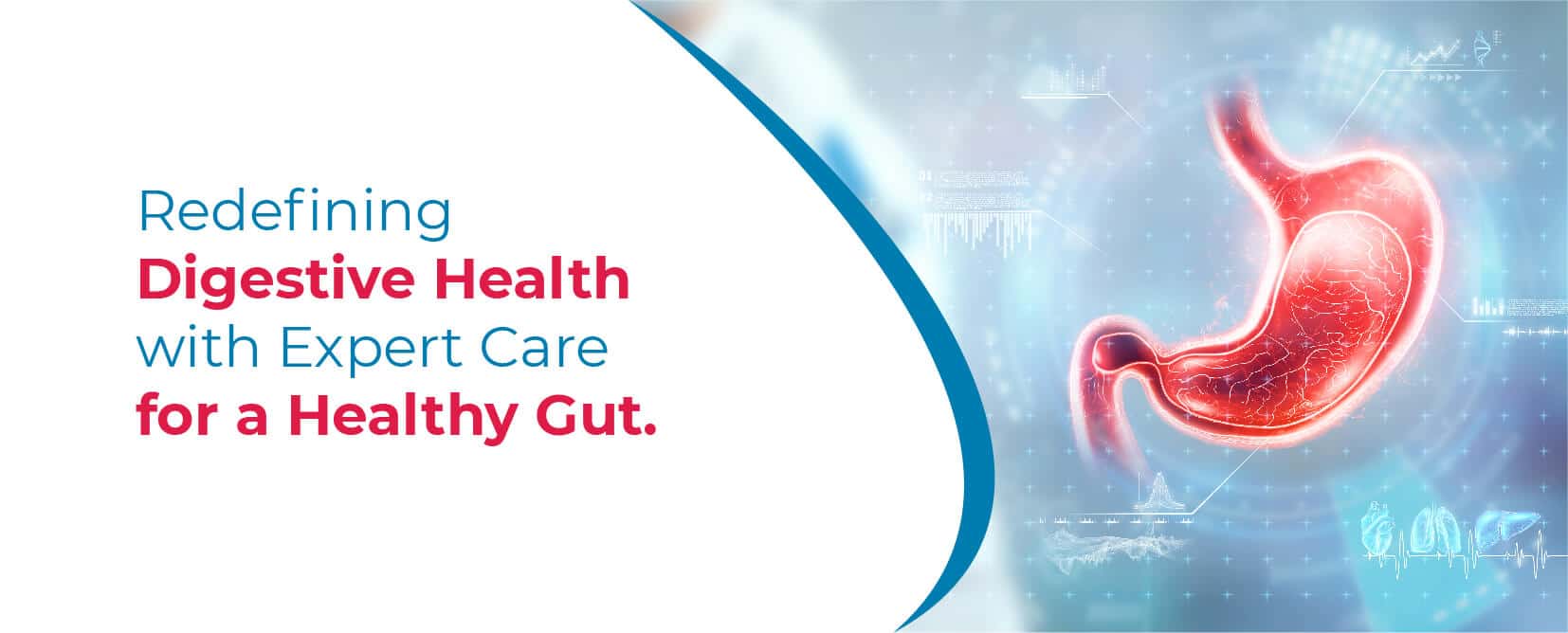 Best Top Gastroenterology Hospital
In Secunderabad & Hyderabad
At KIMS-SUNSHINE Hospitals, Secunderabad we offer top-tier diagnosis and treatment for all gastrointestinal and liver disorders. Our Department of Gastroenterology and Hepatology at KIMS-SUNSHINE Hospital, Secunderabad is led by some of the most distinguished gastroenterologists in the field. The state-of-the-art gastro hospital is renown for its comprehensive and complete healthcare.
Our Gastroenterology Hospital in Secunderabad offers some of the most common and complex treatments for all medical and surgical gastric disorders like ulcers, acid reflux, irritable bowel syndrome, liver disorders like hepatitis, liver cirrhosis etc. Our expertise spreads across a wide spectrum of medical and surgical gastrointestinal services. We are well-equipped to tackle even the most critical and benign conditions of the liver, gallbladder, stomach and intestine.
We offer comprehensive 360 degree care and treatments at our state-of-the-art Secunderabad gastrology hospital. We ensure every patient who experiences any symptoms is accurately diagnosed and treated. Our surgical department is equipped with the most sophisticated endoscopes for high-resolution imaging and minimally-invasive surgeries using scope sterilizing equipment, high-end cameras and monitors, dedicated Endoscopy and Colonoscopy suite for diagnosis and treatment of the most complex gastrointestinal conditions. The department is also prepared to perform emergency procedures that may pose a threat to one's life.
Along with this we ensure smooth inflow and outflow of outpatient services. The outpatient block is designed with patient comfort and convenience in mind, offering a range of specialized procedures. Our expertise extends to a wide array of surgical gastrointestinal procedures, from open and laparoscopic hernia repairs, gallbladder removal, to complex hepatopancreatobiliary surgeries etc. If you seek the best in gastrointestinal care at a gastroenterology hospital near you in Secunderabad, Hyderabad, choose KIMS-SUNSHINE Hospital, Secunderabad.
Sophisticated endoscopes for high-resolution imaging
Scope sterilizing equipment
High-end cameras and monitors
State-of-the-art Endoscopy and Colonoscopy Suit
KIMS SUNSHINE Functional and motility Suite
Advanced Diagnostic laboratory with high-end visualization systems
Outpatient services
Specialized procedures
Diagnostic and therapeutic Procedures
Diagnostic Endoscopy
Therapeutic Endoscopy
Endoscopic Ultrasound
Diagnostic and therapeutic endosonography
Diagnostic and therapeutic Enteroscopy
Esophageal motility
Colonoscopy
Endoscopic retrograde cholangiopancreatography (ERCP)
Sigmoidoscopy
Some of the surgical gastrointestinal procedures performed in the Gastroenterology Department include:
Open and laparoscopic hernia repair
Hepatopancreatobiliary surgery
Radiofrequency Ablation
Liver Resection
Chemoembolization
Haemostasis for gastrointestinal bleeding
Endoscopic mucosal resection
Colorectal surgery
Surgeries for benign and cancerous conditions of the liver
Radical cholecystectomy for bile duct and gallbladder cancer
Laparoscopic cholecystectomy for gallbladder stones
Resections for neuroendocrine and pancreatic cancers
Why Choose Us?
At KIMS-Sunshine Hospitals, Secunderabad, our dedicated gastroenterology team is committed to delivering exceptional quality care, comfort and security as a priority at the preventative, diagnostic, treatment and therapeutical aspects of your health troubles. Our main aim is to parallelly keep up with top-notch healthcare quality and affordability. We take pride in being one the best gastroenterology hospitals offering healthcare of outstanding standards at affordable prices. We are in the provision of cost-effective packages and insurance policies catered to various gastroenterological surgeries and treatments. The exceptionally skilled team of the Gastroenterology department at KIMS-Sunshine Secunderabad consists of the most proficient and best gastroenterologists, consultants, nurses, and technicians. The department performs both voluntary and emergency operations. All patients receive pre and post-procedure consultations from our specialists. Book an appointment today to consult with the best.
Frequently Asked Questions
What are the main causes of gastric problems?
Dietary habits, stress, anxiety, gastroesophageal reflux disease (GERD), peptic ulcers, irritable bowel disease (IBS), food allergies and food intolerances, medication side effects, smoking, drinking alcohol, consuming junk food, obesity, gallstones etc can all contribute to causing gastric problems.
Which are the common symptoms of gastric problems?
Some of the common symptoms of gastric problems include abdominal pain, heartburn, indigestion, nausea, vomitings, changes in bowel habits, gas, bloating, changes in stool color, rapid weight loss, loss of appetite, fatigue, chest pain etc. In case you experience any symptoms consult with the doctors at the best gastroenterology hospital near you today.
What is a serious gastric problem?
Some gastric problems that can have profound implications for an individual's health and well-being are gastrointestinal bleeding due t ulcers, tumors, or bleeding disorders, inflammatory bowel diseases such as Crohn's disease and ulcerative colitis, characterized by chronic inflammation and complications, peptic ulcers, liver diseases such as cirrhosis, hepatitis, or liver cancer, pancreatitis etc. Consult with a doctor at the best gastro hospital near you in case you notice any symptoms.
What is the most common gastroenterology condition?
Gastroesophageal reflux disease (GERD) is regarded as the most common condition in gastroenterology. It involves chronic acid reflux and can have symptoms of heartburn, chest pain and more complications if left untreated.
What is the best hospital for gastro intestinal?
Among the hospitals in Hyderabad, KIMS-SUNSHINE Hospitals, Secunderabad is one of the most trusted gastroenterology hospitals in Secunderabad, Hyderabad. The hospital is renown for its expert gastroenterologists, patient-centric approach and quality treatments at affordable pricing.
What is the difference between gastrologist and gastrologist?
A gastroenterologist is someone who diagnoses and treats problems of the digestive system. Whereas the word gastrologist is a commonly used term to refer to a gastroenterologist.
Where is the best gastroenterology hospital in India?
One of the top gastroenterology hospitals in India is KIMS-SUNSHINE Hospital, Secunderabad. The hospital is renown for its state-of-the-art facilities, high success rates for gastrointestinal surgeries and highly qualified and experienced doctors.
Which doctor is best for gastroenterology?
A gastroenterologist is a specialist who helps treat all types of gastrointestinal conditions related to the stomach, intestine, pancrease, gallbladder etc. Dr. E. Vimalakar Reddy is one of the best gastroenterologists in Hyderabad with decades of expertise in diagnosing and treating digestive disorders and liver diseases. He is currently practicing at KIMS-SUNSHINE Hospitals, Secunderabad.