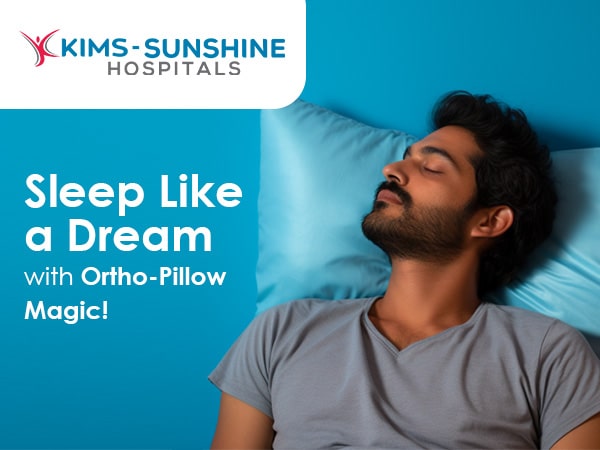 This Pillow Can Help Prevent Neck & Back Pains
By Dr. Adarsh Annapareddy, Consultant Orthopaedic & Joint Replacement Surgeon

Sleep Like a Dream with Ortho-Pillow Magic!
A Promise of Blissful Sleep and a Promise of Saying Goodbye to Neck and Back Pain
It's not very exciting or happy to wake up every morning with neck and back pain. Also, it's not just you. Several people complain of spinal and neck discomfort as an outcome of bad sleeping posture. Good news is awaiting you at just a pillow's reach. In this article, we are introducing you to the world of orthopaedic pillows, developed to tackle your problems and help you wake up fresh and ache-free. 
How would it be to discover the best comfort and support with  an amazing orthopaedic pillow? This pillow promotes spinal alignment and reduces discomfort, promoting a restful sleep. Eliminate neck and back pain, wake up fresh and energetic. Upgrade your sleep quality today and keep reading to find out more!
Acknowledging the problem
Before diving into how an orthopaedic pillow works, understanding and acknowledging the root cause of the problem is important. Uncomfortable sleeping positions are the most common factor contributing to neck and back pain. Misalignment of the head and neck with the spine can lead to agony and strain. This may eventually develop into a recurrent ailment that disrupts your everyday schedule.
The Pillow Answer
Orthopaedic pillows are precisely crafted to help address neck and back issues. Its major objective is to help deliver support to the neck, back, and spine while you are asleep. Here's how it is supposed to work:
Neck Support:

Most orthopaedic pillows feature a contoured or curved design, developed to neutrally position your neck. The neck muscles go through less pressure in this position, leading to minimised morning stiffness.

Spinal Alignment:

By supporting the spine's natural alignment in the body, the pressure of your weight is likely to be lessened on your back, thanks to the orthopaedic pillow. This makes you far less inclined to experience backaches.

Pressure Relief:

The use of foam or latex in orthopaedic pillows is far more advantageous than having cotton pillows. This is because foam or latex helps distribute weight and pressure evenly, eventually limiting discomfort at the pressure points of the neck and back.
Benefits of using Orthopaedic Pillows
Since we've understood how orthopaedic pillows work, we'll explore the advantages they present:
Pain Relief:

Pain alleviation is the orthopaedic pillow's biggest benefit. People who use these pillows report a quick decrease in their neck and back pain, all within the first few weeks of usage.

Improved Sleep:

Without the poking existence of the pain, you'll have better, unaltered sleep, resulting in a refreshed you.

Future Issue Prevention:

Choosing to use an orthopaedic pillow is a long-term investment in your physical and, therefore, mental well-being. It helps keep future neck and back issues at bay, too.

Customization:

If you think you sleep weirdly, then worry not! Orthopaedic pillows are available in various shapes and sizes to support various sleeping positions, no matter how you sleep: on your stomach, back, or as a combination of both.

Durability:

Ortho pillows are made to be durable and resilient, thanks to their quality material. Its durability makes it a long-term and cost-effective investment.
Picking out an orthopaedic pillow
It is vital to check off these things while buying an orthopaedic pillow:
Sleeping Position:

Orthopaedic pillows are tailored to help you sleep less painfully. So determining if you prefer sleeping on your back, stomach, or both is important, as this will help you buy the right pillow to accommodate your needs.

Material:

Anything that does not feel comfortable is only going to cause increased pain. Therefore, choosing the right material for an orthopaedic pillow is important, whether it is foam, latex, or even a water-based one.

Pillow Size:

It is important to make sure that the pillow's shape and dimensions align well with your body size, your requirements, and your mattress.

Brand:

If you are looking to invest in a cost-effective and long-term orthopaedic pillow, it is crucial that you research the brands of pillows and read their customer reviews.
In the event that you or someone you know is suffering from neck and back pain or any other orthopaedic ailments, you can book an appointment with the most skilled orthopaedic specialists at the best orthopaedic hospital in Hyderabad, KIMS-Sunshine Hospitals, Secunderabad. For a pain-free, healthy existence, the orthopaedic hospital near you can provide excellent medical guidance and can help make wise decisions with posture and sleep.
Stop allowing back and neck pain to interfere with your life. Invest in orthopaedic pillows for the comfort and support they offer. These pillows are your key to pain-free, restorative sleep, not just a sleep accessory. Orthopaedic pillows allow you to say goodbye to agony and hello to wonderful sleep. Your body will appreciate the change, and you'll wonder why you didn't do it sooner.
---
FAQs
Q. What does an orthopaedic pillow do?
A. An orthopaedic pillow is made to support and position the neck, head, and spine correctly as you sleep. Keeping a more ergonomic sleeping position helps to lessen discomfort, prevent neck and back problems, and enhance overall sleep quality.
Q. Are Ortho pillows good?
A. For many people, orthopaedic pillows are useful because they give optimal spinal alignment, pressure reduction, and enhanced sleep quality, which reduce pain and encourage deeper sleep. It's crucial to pick the proper pillow depending on your own needs and preferences because their efficacy can differ from person to person.
Q. What is the difference between a normal pillow and an orthopaedic pillow?
A. An orthopaedic pillow is designed to provide proper support and alignment for the head, neck, and spine, reducing discomfort and promoting healthy sleep posture. A normal pillow lacks these specific design features, often leading to inadequate support and potential neck and back pain.
Q. Who needs an orthopaedic pillow?
A. Orthopaedic pillows are perfect for people who have bad posture, neck or back problems, or who want their spine to be more aligned when they sleep. They offer specialised support, making them an important sleeping accessory for anyone who is experiencing musculoskeletal discomfort. The best orthopaedic hospital in Hyderabad is KIMS-Sunshine Hospital in Secunderabad, which has highly skilled orthological specialists and support staff. Book an appointment at the best orthopaedic hospital near me today.