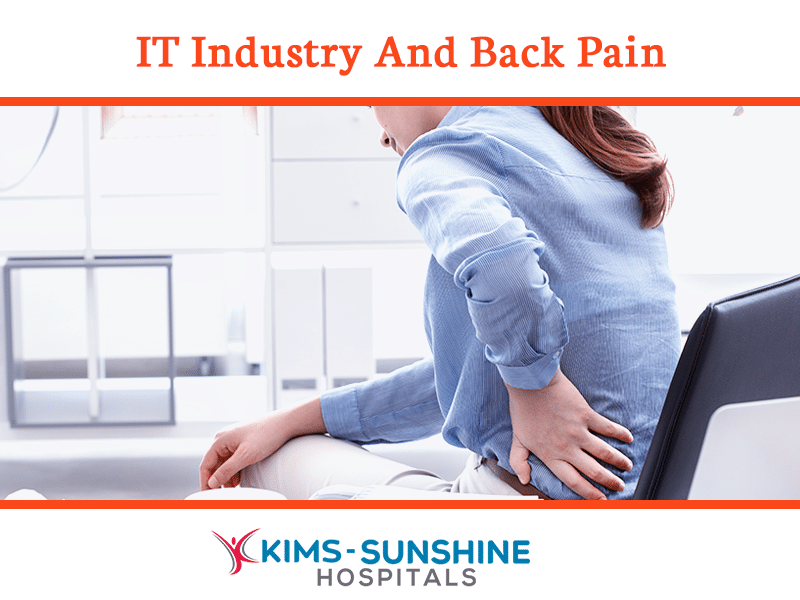 Why Back Pain Is Common Among IT Employees
Why do people in the IT Industry suffer from back pain?
The world Information Technology is a cut-throat one. Due to deadlines, performance, competition and also the extensive amounts of research and work involved, most of the time, they tend to put their health in the back of the seats. 
In this era, Laptops and smartphones are a part of daily life. Due to this, people who spend most of their day at work especially a desk job, tend to sit for longer periods of time. So also, people tend to adopt abnormal posture while at work. Due to this, muscles of the back get fatigued easily. If the muscles are not relaxed by a simple stretch or walk, back starts paining. Imagine this happening daily at work !! Result is… your health starts deteriorating leading to frequent back/ neck pains which in turn affects the work productivity.
This is a vicious cycle and simple way to break it is by maintaining a good posture, regular exercises and healthy nutrition.
Pain is often located in the lower back. Poor posture and lifting of weights in inappropriate manner are the major causes of back pain in a working professional.
Symptoms of back pain:
The pain is often short lived and relieves with simple analgesics and exercises, but if it occurs with any of the following, people should see their doctor:
Loss of weight
Fever
Inflammation or swelling in the back
Back pain which is continuous
Pain in the legs (Radiculopathy)
Injury or trauma to the back
Difficulty in urinating
Bowel irregularity
Numbness in and around the genitals
Weakness of lower limbs
Such symptoms are typically 'Red flag' symptoms and a visit to a spine surgeon is warranted.
When to visit a doctor?
If above said symptoms are present, one should visit the surgeon. If you do not have a doctor, visit us or book an appointment with us at Sunshine Hospitals so that we can diagnose the problem and treat it as well. Treatment varies from a simple exercise to medications to occasionally surgery to benefit the patient.
Most importantly, to prevent having continuous problems, correct your posture, take a walk or any kind of physical movement every 20 minutes to half an hour, so that your body doesn't get affected because of the work.
About The Spine Team :
The Department of Spine surgery involves three fellowship trained dedicated spine surgeons who are involved in the patient care including evaluation, surgery and post-operative management. The team believes in the Seattle 'Team' approach which ensures patient safety and reduces the complications drastically.
The USP of the department is a team approach and expertise in complex surgeries.
Our mission is to improve the quality of life for people with problems of the spine. We offer comprehensive diagnosis and treatment options for all types of spine problems, from the most common to the most obscure. Whether your treatment is to be medical or surgical, we are dedicated to applying leading- edge technology, the latest techniques and the most effective therapies to help you feel, move and live better.
[Also Read : Back Pain in School going Children]
About Sunshine Hospitals: 
A Multi Super Speciality Institution, 500 bedded Sunshine Hospitals (Paradise Circle, Secunderabad) is promoted by globally reputed Joint Replacement Surgeon Dr. AV Gurava Reddy (Orthopedic Doctor) and like-minded associates who share the objective of making world-standard healthcare available, affordable and accessible to the common man. Sunshine has now become one of the best hospitals for many treatments including Orthopedic, Gastroenterology, Cardiology, Trauma and Neurology.