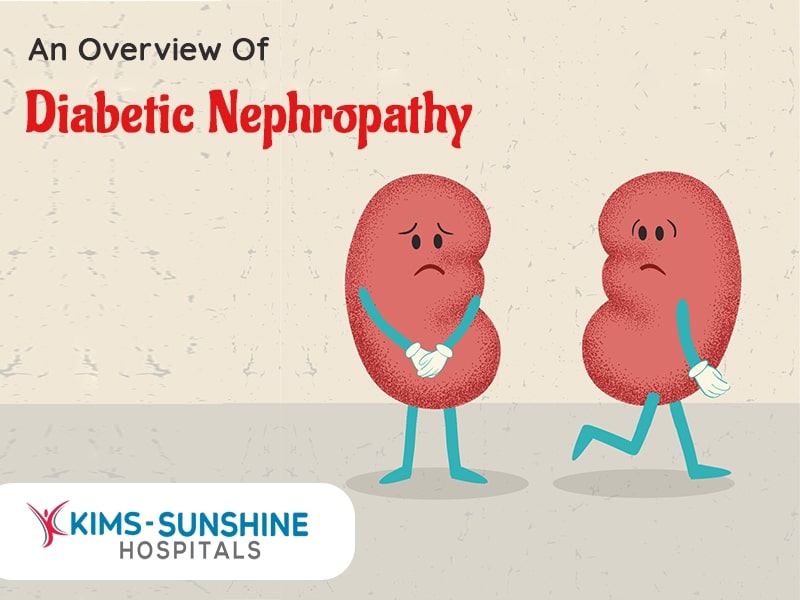 An Overview Of Diabetic Nephropathy
Every second person you know, suffers from diabetes and you are so used to hearing about it that you don't really think of it as a serious disease. But diabetes comes with a lot of risks if you don't keep it under control. It can affect your heart, eyes, nerves, blood vessels and your kidneys too. What we are looking at in this blog is diabetic nephropathy and how it affects your kidneys. Continue reading to know how diabetes affects your kidneys.
What is diabetic nephropathy?
Diabetic nephropathy also called diabetic kidney disease, is a serious kidney-related complication in type 1 diabetes and type 2 diabetes patients. Raised blood sugar (glucose) levels in people with diabetes can cause a rise in the level of certain chemicals within the kidneys that tend to make a cluster of capillaries around the end of a kidney tubule, like filters of the kidney (the glomeruli) more 'leaky' which then allows albumin which is a protein from the blood, to leak into the urine. Normally, only a tiny amount of albumin is traced in the urine. Over a period of time, the condition damages your kidneys' filtering system. Early diagnosis and treatment may prevent or slow down disease's progression and reduce the chances of complications.
Diabetic kidney disease is staged in various stages, depending on how much albumin is lost in urine and the degree of renal failure.
Microalbuminuria: The amount of albumin that leaks into the urine is between 30 and 300 mg per day and It's also called incipient nephropathy.
Macroalbuminuria: The amount of albumin that leaks into the urine is more than 300 mg per day and it's also called overt nephropathy.
What are the symptoms of diabetic nephropathy?
Worsening blood pressure
Swelling of feet, ankles, hands or eyes
Increased need to urinate
Less need for insulin or diabetes medicine
Confusion or difficulty concentrating
Loss of appetite
Nausea and vomiting
Persistent itching
Fatigue
What causes Diabetic Nephropathy?
Your kidneys contain millions of tiny blood vessel clusters that filter waste from your blood. Severe damage to these blood vessels caused by diabetes can lead to diabetic nephropathy, decreased kidney function and kidney failure. Over time, high levels of untreated diabetes causes high blood pressure, which in turn damages the kidneys by increasing the pressure in the delicate filtering system of the kidneys.
What are the risk factors?
You can develop diabetic nephropathy if you have,
Diabetes, type 1 or 2
Uncontrolled blood sugars
High blood pressure (hypertension
Smoking
High blood cholesterol
Family history of diabetes and kidney disease
How can you prevent diabetic nephropathy?
To reduce your risk of developing diabetic kidney disease:
Treat your diabetes: With effective treatment of diabetes, you may prevent or delay diabetic nephropathy.
Manage other medical conditions: If you have high blood pressure or other chronic conditions that increase your risk of kidney disease, work with your doctor to control them.
Follow instructions on over-the-counter medications. When using non-prescription pain relievers follow the instructions on the package. Unmonitored usage of these pain relievers can lead to kidney damage.
Maintain a healthy weight by being physically active most days of the week.
See Nephrologist regularly and follow the dietary and medicinal advice strictly.
What is the treatment for diabetic nephropathy?
The condition cannot be cured but treatments and precautions can delay or stop the progression of the disease, in particular, if you have microalbuminuria, it does not always progress to the proteinuria phase of the disease. Treatments involve keeping the blood sugar levels and blood pressure levels under control, within their target range through medications and lifestyle changes.
About the Doctor:Dr Archana – Consultant Nephrologist
Dr. Archana is a Consultant Nephrologist, working at Sunshine Hospital, Gachibowli. She is a qualified Nephrologist with an experience of more than 8 years. She is trained in the management of various kidney diseases and performs verious procedures like dialysis access, hemodialysis, peritoneal dialysis, kidney biopsy, renal transplantation etc. Critical-care nephrology and delaying the progress of CKD are her areas of interest.
About Sunshine Hospitals:
A Multi Super Speciality Institution, 500 bedded Sunshine Hospitals (Paradise Circle, Secunderabad) is promoted by globally reputed Joint Replacement Surgeon Dr. AV Gurava Reddy (Orthopedic Doctor) and like-minded associates who share the objective of making world-standard healthcare available, affordable and accessible to the common man.  Sunshine has now become one of the best hospitals for many treatments including Orthopedic, Gastroenterology, Cardiology, Trauma and Neurology.