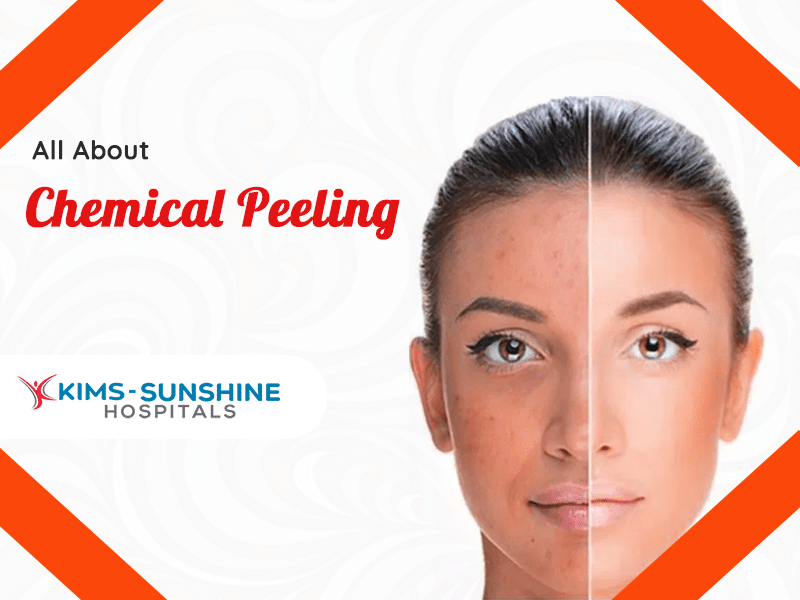 Chemical Peeling – All You Need To Know
Everyone wants a radiant and spot free skin. People nowadays follow various kinds of treatments to get either fairer or smoother skin. Television and the internet are filled with different skin treatments or skin enhancement techniques which people blindly follow. However what they don't realise is that there is no 'one treatment serves all' sort of a thing. What works for one skin type might not necessarily work for another.
So what can you do to make your skin better?
One of the most resorted to treatments to achieve a better appearance of the skin is  Peeling where a solution is applied on your skin, resulting in the removal of dead skin, eventually can be peeled off.
What is chemical peel used for?
Chemical peels are majorly used on the hands, face and the neck. The main aim of chemical peels is to:
Reduce the fine lines found under the eyes and also around the mouth
Treat wrinkles which can be caused by sun damage and aging
Improving the appearance of scars
Treating certain types of acne
Reduce age spots, freckles and dark patches
Improving the look and feel of your skin
Chemical peels are mainly done as a remedy for acne or to improve the pigmentation of your skin. When the peels are used for pigmentation of your skin, the brightness of your skin increases and makes it look more toned.
Are you a good candidate for a chemical peel?
People with fairer skin or light skin are the ideal candidates for getting a chemical peel. Apart from having a fair skin tone, they should also have a light hair quantity on your skin. This does not mean that if you have a darker skin tone, you cannot get a chemical peel done, you can – but the results will vary depending on the type of skin condition you are addressing. But, if you do get a chemical peel done with darker skin tone, after the procedure you might end up having a uneven skin tone.
What is the procedure of Chemical Peels?
Chemical peeling procedure is a short one and can be done in a doctor's office or in a surgery centre. It's an outpatient procedure which means, you need not spend the night in the hospital.
Your skin will be cleaned properly first and then the surgeon will apply one or more solutions to small areas of your skin. This  creates a controlled wound, eventually letting new skin take its place.
During the chemical peel, you might feel a slight burning sensation which could last for about five to ten minutes. Applying a cool compress on the skin will help with the burn and the stinging. If necessary, your doctor will ask you to take pain medication.
The results of a chemical peel shows up completely after a few months. In between, you might need repeated chemical peels during a span of a few weeks depending on the type of your skin.
The procedure of chemical peels needs to be done after consulting a doctor or surgeon, so Visit Us at Sunshine Hospitals and Our Doctors will help you get the skin you always wanted.
About the Doctor:
Dr Hari Krishna Reddy – Consultant Dermatologist
Dr Hari Krishna Reddy is one of Sunshine Hospital's leading people in Dermatology. Dr Reddy holds vast experiences in treating, consulting and expertise in dermatology and the many problems people have in the area. His expertise is vital in solving plenty of complex cases we get on a regular basis.
About Sunshine Hospitals:
A Multi Super Speciality Institution, 500 bedded Sunshine Hospitals (Paradise Circle, Secunderabad) is promoted by globally reputed Joint Replacement Surgeon Dr. AV Gurava Reddy (Orthopedic Doctor) and like-minded associates who share the objective of making world-standard healthcare available, affordable and accessible to the common man.